To provide our customers with prompt, reliable and personalized pharmacy services.
We envision being the leading provider of pharmacy services in Pittsboro, NC, and its surrounding communities.
Pittsboro Pharmacy is an independent pharmacy set in the heart of Pittsboro, NC. We strive to make a difference in the local community by offering convenience and reliability in our services through exceptional pharmacy care. To ensure that we deliver our care effectively, we tailor our services to fit the individual needs of our customers.
Our goal is to establish long-term relationships through our superior consultative services, reasonably priced products and excellent customer service. We will work closely with our customers to help them meet their individual needs with products, costs and services.
Our services include, but not limited to:
Immunization Services

Free Home Delivery

Drive-Thru service

Blister Packaging

Express dispensing of prescriptions

Guaranteed Best Prices in town

Free after-hours Pharmacist Consulting Services (This makes us stand out! )

Personalized and customer-centered Pharmacy

Services

Family-like Atmosphere
We are conveniently located in the Food Lion Shopping center at 630 East Street, Suite 13, Pittsboro, NC where customers can add value to their time by making it a one-stop-shop. We also plan on offering FedEx shipping services and more in the near future for the convenience of our customers. We seek to be your pharmacy of choice and look forward to serving you.
Know more about us and our services by calling us @ 919-533-6901 & 919-533-6903 
You can always text us @919-389-1550
We can help you find an optimal solution for all your health-related problems by working in close collaboration with your doctors. We will make sure to check your medications as well as herbal and vitamin supplements you are taking for any possible interactions. Our goal is to help you to navigate and coordinate your healthcare for the best results.
Modern insurance plans are complicated with their preferred and non-preferred medication lists and other regulations. We will do our best to help you with any issue that may arise.
You'll be welcomed by our pharmacy staff — caring professionals who are readily available with answers and information regarding your medication questions. It's the kind of personal service you should expect from a community pharmacy.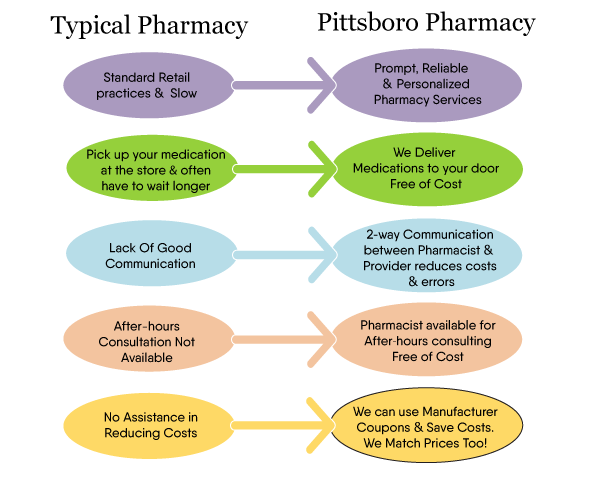 Please Call us for more information @ 919-533-6901, 919-533-6903